Private Chef Chris Bailey caters for bespoke dinners and events in the South of England and further afield. 
Creating produce led personal dining from a Michelin Star winning chef with over 15 years experience in award winning restaurants within the UK and Europe.
The service is tailor made with bespoke menus to suit individual clients requirements and style.
' …ease into Chris Bailey's accomplished culinary world. Here is a chef who fills his larder with seasonal ingredients and works them up into precisely timed, imaginative dishes packed with accessible flavours… '
The Good Food guide
Private Chef & Catering Services in Surrey, Sussex, Kent, Brighton & London
Private Chef Chris Bailey with over fifteen years experience working and running top restaurants around Europe is available to cater for your private event or dinner in Surrey, Sussex, Kent, Brighton and London. If you have a passion about great food and produce and are looking for a private chef to cater for your tailor made events including weddings, pop-ups and private dinner parties, and are wanting something special that will leave a lasting impression then we would love to hear from you.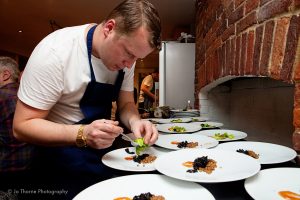 Trained at Westminster College in London and having won a Michelin Star to his name, Chris loves to create bespoke menus inspired by his passion for great food that will meet your personal needs. Using the best quality produce and working with modern and traditional methods of cooking he creates spectacular dishes to impress whatever the occasion. Working closely with a team of experienced chefs Chris caters his recipes to suit your budget, event and specific needs, ensuring that you'll always be impressed with what he delivers. He personally sources the seasonal ingredients for all his dishes from small farms and local suppliers to guarantee they are all full of flavour and of the highest quality. Chris's attention to detail is what separates him as a private chef and puts you in safe hands.
Chris and his team are capable of catering for both large and small events and offers a bespoke menu service so you can personalise your food to suit your tastes and occasion in Surrey, Sussex, East Sussex, West Sussex, Kent, Brighton and London. With an experienced Private Chef and event organising team looking after your event you can relax and enjoy the occasion.
Chris is constantly creating innovative culinary experiences to impress his customers and gathering ideas to push his services forward and innovate where possible. As a private chef, his enthusiasm and drive is tangible in the food he creates and the service he offers, making him a true asset to your event. If you would like a to book an event or discuss options then please contact us via the contact page.